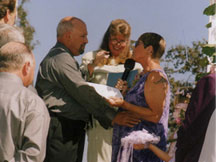 Testimonials
"We want to thank you for such an amazing ceremony. It was beautiful and touching and we couldn't have asked for anything more fitting or perfect. Our guests loved it and many shared how moving and personal it was. What a blessing to have your calming and caring personality to help prepare us for the wedding and especially on our big day. We loved receiving a copy of the ceremony and our vows after the wedding to forever remind us of our intentions on that day."
Chris and Stacy Stately
"Even though Anne knew us both, she took time before our wedding to meet with us so she could know us as a couple. This helped create the ceremony we hoped for in a room of love, artfully and gracefully facilitated by Anne. We both felt seen, honored and cherished. What a way to start our life together!"
Kit and Harrison
"Issues came up between the two of us as the wedding neared; Anne was available to listen to our concerns and able to give us the tools to use for our future together. We have used the tools she taught us again and again, helping our union to grow deeper and closer as time has gone on.
"Anne's help with the wedding enabled us to have a meaningful ceremony that included our family and friends, allowing them to witness our commitment and to be an integral part of the ritual."
Ruth and Art
For further information, please
call or email
Anne.
Return to the main
weddings
page.