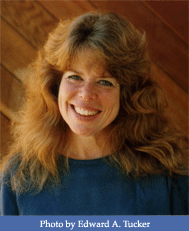 Anne's life philosophies were strongly shaped by her experience as the daughter of Alan Watts, well-known pioneer interpreter of Eastern religion and philosophy for the Western world. At the age of 20 (in 1962) she married successful harpist Joel Andrews. Anne and Joel gave birth to two bright, musically gifted children whom they raised together until their divorce in 1972. For the next ten years Anne was a working single parent.
Her experiences, along with her ability to empathize with people in a way that transcends social and cultural boundaries, combine in Anne to create a richly loving and compassionate person.
Anne began her formal interest in human potential in 1964 when she first studied with Virginia Satir, founder of Conjoint Family Therapy. Her career and studies include a BA in Humanities, teaching and interpreting for the deaf and teaching Special Education in public schools.
In 1983, Anne participated in workshops offered by the Human Awareness Institute, founded by Dr. Stan Dale. There she experienced transformation on a deep and practical level in all areas of participants' lives; they opened their hearts to themselves and others through the magical healing power of love. She soon realized that she had found the vehicle to manifest her life commitment, and trained to be a workshop facilitator.
She became a Certified Hypnotherapist and an educator, facilitator and counselor in the areas of Human Sexuality, sexual abuse, family stress, self-esteem, healing the "inner child," financial and aging issues. Since 1985, she has facilitated hundreds of workshops in the US, Australia, Japan, England and Germany.
Anne has been enthusiastically received as a guest on radio and TV, and featured in newspapers. She is a warm and engaging speaker. She has a successful counseling practice in Santa Rosa, California where she lives in a deeply loving relationship with her husband, Mark Kupke, who has been her partner since 1984.